Malaysia Airline
5 Days
---
Day 1
JAKARTA - KUALA LUMPUR - BANGKOK
Day 2
BANGKOK - PATTAYA
Day 3
PATTAYA - BANGKOK
Day 4
BANGKOK
Day 5
BANGKOK - KUALA LUMPUR - JAKARTA
---
Adult
Twin Sharing
Rp. 6.990.000,-
Single
Rp. 9.490.000,-
Child
Twin Sharing
Rp. 6.990.000,-
Extra Bed
Rp. 6.790.000,-
No Bed
Rp. 6.590.000,-
Additional Fee
Airport Tax & Fuel
Rp. 0,-
Visa
Rp. 0,-
PPN
1.1%
---
Day 1
Thursday,
Dec 07, 2023
Hari ini Anda berkumpul di Bandara Soekarno‐Hatta untuk bersama‐sama memulai perjalanan dengan penerbangan menuju Bangkok, melalui Kuala Lumpur. Setibanya di Bangkok, Anda dijemput dan diantar menuju hotel untuk beristirahat.
Akomodasi : Witz Hotel atau setaraf
---
Day 2
Friday,
Dec 08, 2023
Perjalanan hari ini menuju kota Pattaya, mengunjungi GEMS GALLERY, FLOATING MARKET untuk mencoba berbagai macam makanan lokal khas Thailand, HONEY BEE SHOP, dan LASER BUDDHA yang merupakan lukisan / gambar Buddha yang terdapat di salah satu sisi perbukitan. (B/L)
Akomodasi : Baron Pattaya atau setaraf
---
Day 3
Saturday,
Dec 09, 2023
Pagi ini mengunjungi HERB SHOP dan NONG NOOCH VILLAGE untuk menyaksikan pertunjukan kebudayaan Thailand dan gajah, Kemudian Anda diantar kembali ke Bangkok singgah di DRIED FOOD & SNACK SHOP dan malam harinya berbelanja di JODD FAIR NIGHT MARKET. (B/L)
Akomodasi : Witz Hotel atau setaraf
---
Day 4
Sunday,
Dec 10, 2023
Acara hari ini, city tour menelusuri SUNGAI CHAO PHRAYA untuk mengunjungi WAT ARUN kuil Buddha terbesar dan terindah di Thonburi. Dilanjutkan berbelanja di PLATINUM MALL, dan ICON SIAM yang merupakan mall terbesar dan terbaru di Bangkok dengan indoor floating market di dalamnya. (B)
Akomodasi : Witz Hotel atau setaraf
---
Day 5
Monday,
Dec 11, 2023
Setelah santap pagi, Anda berkesempatan berbelanja di MBK SHOPPING CENTER dan kemudian diantar menuju bandara untuk penerbangan kembali ke Tanah Air. Terima kasih atas keikutsertaan Anda bersama ROTAMA TOUR, sampai jumpa di acara tour kami berikutnya. (B)
---
---
Document Information
---
Download PDF
Share this trip to your friend
Our team ready to help you.
Rotama Tour Jakarta
+62 21 2977 5977
Contact Us
More Discover
Try Another Stunning
Thailand Destination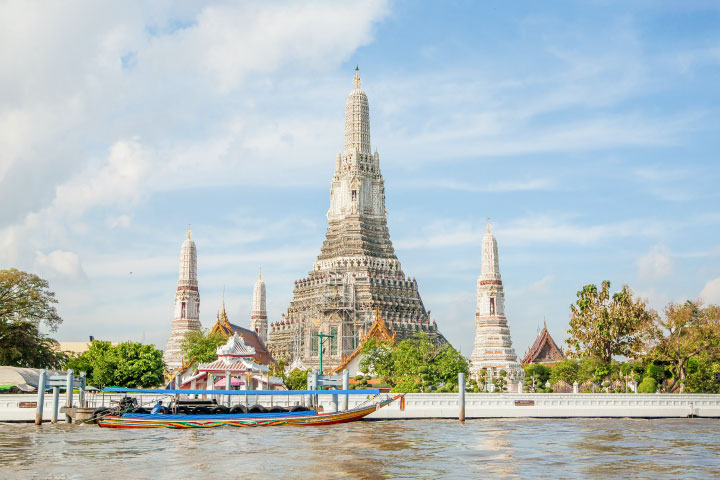 5 Days
Dec - Dec 2023
Jakarta
from Rp
6.990.000++
ALL IN